Hello, friends! 
It's been a minute... I've been laying pretty low for the past few months, getting cozy with my family and my cat, renovating our kitchen, and best of all, working on demo recordings of new songs in preparation for a NEW ALBUM in 2020!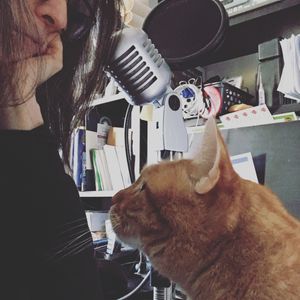 What's more, I'm thrilled to tell you that the producer of said new album is a songwriter I love and respect, who has supported my career in every way since the very beginning. Though she can be a bit scattered and under-confident at times, she has impeccable taste and high artistic standards. She is never satisfied with a mediocre song or a lackluster performance, but knows when it's time to step away from the microphone and take a walk. Who is this mystery woman? 
Me. 
You read that right. It's me. After a few deep conversations with trusted friends and allies in the music community, plus some helpful feedback on early tracks, I've decided to place my new album in my own capable, albeit shaky, hands. I plan to record as much as I can at home, playing the instruments I know how to play, then hiring other players for parts best served by their particular talents. When all tracks are ready for their close-up, I will bring in pro engineers to mix and master the record. I am, to quote the great Stephen Sondheim, "excited AND scared," but somehow still at peace with this decision. It's surely new and uncharted territory for me. 
Follow the album's progress on FACEBOOK and INSTAGRAM if you like. I'll surely be sharing lots of little tidbits along the way! 
Of course, there are also plenty of live shows coming up in the next few weeks. Join me at one -- or more -- of these performances if you're in the neighborhood: 
Thursday, February 13, my co-curator Devlin Miles and I will host the final edition of LIVE FROM THE VAULT: SONGWRITER SESSIONS as we welcome stellar guests INA MAY WOOL and ABBIE GARDNER to Brooklyn. Great songwriting and camaraderie will be on tap as we close out what has been a beautiful run of shows in a truly unique space. Advance tix available at EVENTBRITE. 
Friday, February 14 thru Sunday, February 16, JOE IADANZA and I will hit the road for THREE duo shows at THE HEARING ROOM (Lowell MA), 6 ON THE SQUARE (Oxford NY), and BOUND FOR GLORY (Ithaca NY). Shows with my friend Joe always have a very special and beautiful energy. 
Friday, March 6, I'll be teaming up with my dear friends MILES & MAFALE for a double-bill show at CT FOLK (New Haven CT). Some sweet harmony will surely be on the menu! 
Saturday, March 7, it will be my honor to join SHARLEEN LEAHEY, LINDSEY WILSON, and PAT LAMANNA for a special concert celebrating International Women's Day at PEOPLE'S VOICE CAFE in Manhattan. 
For details on these and all upcoming shows, check the SHOWS page.  
As always, thanks for following along on this journey with me. The road may be long and winding, but it's still full of wonderful surprises and beautiful experiences. Stay curious, my friends. Until we meet again, I wish you good laughs, good food, great music, and 
Peace, 
Carolann