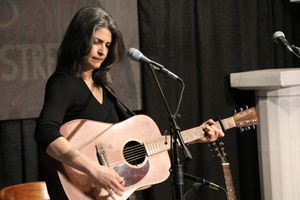 Though general restlessness has been a constant companion of mine for just about as long as I can remember -- booting me out of bed in the morning and keeping me awake at night -- lately, it seems she's turned the dial up to eleven. I find myself wanting things I do not, cannot, or should not have, spending money unwisely (well, even more unwisely than usual), and generally having trouble keeping mind and body still and focused for any length of time. I crave new projects, new songs, new adventures, new clothes... which is fine, I suppose, but the delicate balance of my life seems just a little bit off these days. I'm not sure why this is happening, or exactly what to do about it, but I'm trying to channel all this restless energy into positive action while I figure it out. Presently devoting myself to creating and polishing new songs, mentally planning the next album project, looking for performance opportunities a little farther from home, and of course, holding tight to the yoga and meditation practice that's been bringing my mind and body into closer communication for nearly five years now...
Interesting times for sure. It's probably good that there's lots of action in my musical life right now! Here's where you'll find me in May and June:
MAY
4:  Pete Seeger Centennial Concert, Huntington NY (with MILES & MAFALE, JAMES O'MALLEY, and MOUNTAIN MAIDENS) 
5:  Spring Jam at The Good Coffeehouse, Brooklyn NY (with BEV GRANT, LINDSEY WILSON, and STEVE MAYONE)
9:  Live From The Vault: Songwriter Sessions, Brooklyn NY (with JILL SOBULE, NICHOLAS ZORK, and my co-host DEVLIN MILES)
18:  Southeast Regional Folk Alliance Official Showcase, Chattanooga TN  
21:  The Pierce Sessions, Farmingdale NJ (with MIKE MONTREY)
26:  Carolann Solebello: A Song Grows in Brooklyn LIVE on ConcertWindow.com
31:  Jamey's House of Music, Lansdowne PA (with JOE IADANZA)
JUNE
1:  Godfrey Daniels, Bethlehem PA (with JOE IADANZA)
2:  Local Cream with Annette Wasilik, Takoma Park MD (with JOE IADANZA)
8:  Emmaus Road Cafe, Lancaster PA
13:  Live From The Vault: Songwriter Sessions, Brooklyn NY (with KARYN OLIVER and PAUL SACHS)
14:  NO FUSS AND FEATHERS at New Jersey Botanical Gardens, Ringwood NJ
23:  Pronoia House, Clifton NJ (with JOE IADANZA)
28:  Dorn Space, Gloversville NY 
29:  Iron Horse Music Hall, Northampton MA (opening for THE BOXCAR LILIES)
As always, check the SHOWS page on my website for details, and find out about late-breaking musical news by "liking" and "following" my FACEBOOK music page and my INSTAGRAM feed (something I'm still getting used to). 
Until we meet again -- which I hope will be soon -- I wish you love, light, and a moment or two of blessed stillness.
Namaste,     
Carolann