Hello, friends!
Wow. Since last I wrote you, so much has changed.
I played two wonderful shows the first weekend in March for gracious, beautiful music lovers, and somehow managed not to touch not a single one of them. We were a jittery bunch of humans for sure, but the music seemed a sweet balm for performers and audience alike.
Just a few days later, though, things began to get serious. New York City schools closed. I cancelled nine shows. Grocery shopping became an anxious adventure. My beloved yoga studio closed its doors. People I love became ill. People I don't know, but who were loved by others, died.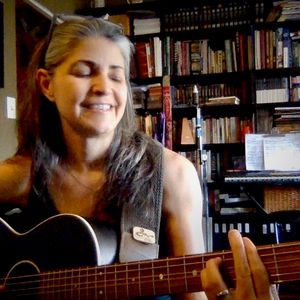 Things are scary for everyone right now, I know. I feel helpless staying at home, but I know that's the best course of action.
But good things are happening here. I bake bread. I practice yoga. I play games and watch movies with my family. I have long, rambling phone conversations with loved ones. And perhaps best of all, I continue to use my home recording equipment. Here are a few of the projects I've been working on:
My friend Neale Eckstein put together a virtual jam session with a zillion fabulous folkies (including my sweet husband) that I'm thrilled to be part of: 
THE WEIGHT (QUARANTINE EDITION)
I made a new YouTube playlist of songs I've been recording in different rooms of my house and sharing on Facebook just to keep my spirits up:
QUARANTINE SONGS
Tomorrow -- Friday, April 10 -- I'll be featured on Ron Olesko's Folk Music Notebook as part of the "Shelter in Place" series. Catch me doing a 15-minute set from my home studio at 12 noon, 4PM, 1AM, and 3AM here: 
FOLK MUSIC NOTEBOOK
It is my sincerest wish that you and all those you love remain safe and healthy. Please take good care of yourselves -- body, mind, and spirit -- and make sure plenty of good music is a part of your plan for that. I am confident that we will meet again on the other side of all this. Until then, may you know
Peace,
Carolann

WEBSITE