Today, I am a juggler. My hands in constant motion, my brain whirling, my eyes not sure what to focus on as the many balls I'm trying to keep in the air blur into one... booking new shows, promoting shows already booked, learning new music, singing backup for friends' new records, playing sidekick bass, starting a new songwriter series (more on that soon) and maybe, just maybe, recording demos of new songs of my own...
And perhaps most importantly, this month and next bring more than a few concert appearances, most notably three with my friend and co-conspirator JOE IADANZA. We'll be taking a run to New England together March 22-24, stopping in MA, VT, and CT. If you haven't seen Joe and I together, well, it's really pretty special. Here's a little taste: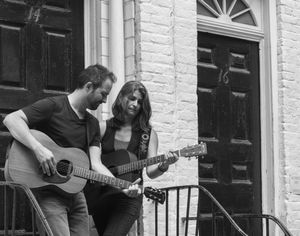 https://youtu.be/GIzQ4RxX0bc
Also coming up in March and April are a few exciting songwriters-in-the-round shows, plus a handful of dates with my beloved NO FUSS AND FEATHERS.  Here's the early Spring gig forecast:
Thursday, March 14:  Heart of the Matter at BeanRunner Cafe, Peekskill NY (in-the-round with SARAH BROWNE and ROSIE D'ANGELO)
Friday, March 22:  The Hearing Room, Lowell MA (with JOE IADANZA) 
Saturday, March 23:  Stage 33 Live, Bellows Falls VT (with JOE IADANZA) 
Sunday, March 24:  Sounding Board Too at Winding Trails, Farmington CT (with JOE IADANZA) 
Thursday, April 4:  Songwriters' Night at The Living Room at 35 East, Ardmore PA (in-the-round with AARON NATHANS, AVI WISNIA, and ZOE MULFORD)
Friday, April 5:  NO FUSS AND FEATHERS at House Concert TBD, Somewhere in NC 
Saturday, April 6:  NO FUSS AND FEATHERS at Listen Up Brunswick County, Bolivia NC
Friday, April 19:  NO FUSS AND FEATHERS at Spiral Sounds Concerts, Jersey City NJ 
Saturday, April 20:  NO FUSS AND FEATHERS at The Buttonwood Tree, Middletown CT
And hey, I'll be scheduling another Concert Window show soon -- maybe even once a month -- since February's webcast was so much fun. Follow me here to find out about that:
http://www.ConcertWindow.com/CarolannSolebello
Also, be sure to keep up with late-breaking news by "liking" and "following" here: 
https://www.facebook.com/CarolannSolebello/ 
Until we meet again -- which I hope will be soon -- I wish you light and warmth and hope in the promise of Spring, literally and metaphorically.
Namaste,   
Carolann