It's that time of year again, friends -- FESTIVAL SEASON! And though I'm only booked to play two festivals this Summer, they're pretty important ones to me.
July brings me to the Woody Guthrie Folk Festival in Okemah, OK. I was privileged to play this fest back in 2010 during the waning days of my tenure with Red Molly, and it was absolutely earthshaking. My experience there among musical kindred, surrounded by the very palpable aura of the godfather of American troubadours, launched me into the next phase of my career, affirming my desire to continue making music and finding truth in songwriting even after my departure from the band. I am honored and delighted to return to this wonderful festival under my own banner, and looking forward to making new memories and new friends!  
August brings me to my spiritual home, Falcon Ridge Folk Festival in Hillsdale, NY. This year, I get to play the main stage in the Most Wanted Song Swap, alongside fellow 2018 Emerging Artist winners Quarter Horse and Justin Farren. Though I have lost count of the number of times I've played on those stages, climbed that glorious hill, swapped songs at those campsites, and slept in a tent under that expansive, starry sky, every year's experience is somehow uniquely magical. Sacred ground, indeed...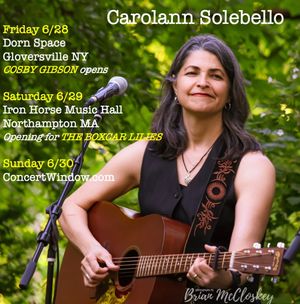 And other stuff happens this Summer, too, kicking off this weekend with a couple of great road shows with Cosby Gibson in Gloversville NY and my old friends The Boxcar Lilies in Northampton MA -- plus one from the comfort of my very own home (and yours):
Friday, June 28 at Dorn Space in Gloversville NY (Cosby Gibson opens) 
Saturday, June 29 at Iron Horse Music Hall in Northampton MA (opening for The Boxcar Lilies)
Sunday, June 30 on ConcertWindow.com at 9PM Eastern
Also, Live From The Vault: Songwriter Sessions, the in-the-round series I'm co-hosting with my friend Devlin Miles, continues through the Summer at Putnam's Pub & Cooker in fabulous Fort Greene, Brooklyn:
Thursday, July 11:  Trina Hamlin, Orly Bendavid, and host Devlin Miles
Thursday, August 8:  Lara Herscovitch, Ganessa James, and host Carolann Solebello
Yup, it's gonna be a HOT Summer, all right...
Stay tuned for more as we get the Fall 2019/Spring 2020 calendar in place. Meanwhile, I wish you all the sweet pleasures of Summer, and plenty of time to enjoy them. Namaste, friends. Until next we meet, may you know
Peace,
Carolann
Facebook.com/CarolannSolebello
Instagram.com/CarolannSolebello