Helloooooooo in there... It's been a minute, hasn't it?
A chilly, dark, frightening minute that might actually have been a year, a decade, a century. It's really hard to say. I don't know about you, but time moves just a little differently for me these days. So much so that I almost didn't notice the days are getting longer and the tourists are coming back to NYC and my kid is about to turn sixteen and I finally -- FINALLY -- have some good news to share with you...
NO FUSS AND FEATHERS, the fearsome foursome of KARYN OLIVER, CATHERINE MILES, JAY MAFALE, and Yours Truly, will be getting the band back together for THREE shows in March, bringing enough pent-up harmony and hilarity to light up the entire Eastern Seaboard. We're BEYOND excited to make music together again, so this run of shows is bound to be a whiz-banger!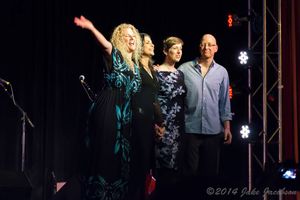 Friday, March 11 at Deer Creek Coffeehouse in Darlington MD
Saturday, March 12 at Muses at the Ice House Festival in Bethlehem PA
Sunday, March 13 at First Acoustics House Concerts in Kingston NY
...and there might even be more in the coming months. We're working on that.
No matter what, though, Some really groovy shows are slowly but surely being added to my calendar. Check the SHOWS page for all the juicy details as they arrive. 
Meanwhile, I sincerely hope this finds you and your dear ones safe and well. Hold them close and tell them you love them so often it makes them uncomfortable. I also sincerely hope to see you soon so I can do the same for you.
Big love,
Carolann