Last week, I had an unexpectedly revealing conversation with a friend about the giving and receiving of energy; the seizure and release of control. As productive, outcome-oriented humans, we spend a great deal of energy trying to control things in our lives. We exert Herculean (or perhaps Sisyphean) effort herding tasks and people and events in the direction we want them to go, controlling environments and messages and images, squeezing our expectations into manageable corrals where even the outcome is something we try to wrestle into submission.
But what would happen if we let go? What would happen if, instead of tightening our grip and directing energy toward controlling outcomes, we released, allowing ourselves to receive energy? What would happen if we opened hands and heart and mind to energy flowing toward us, rather than constantly firing out bursts of energy in all directions in a futile attempt to control outcomes?
"Receive? It has always been difficult for me to receive," I said to my friend. And we both wondered why.
So this is now my challenge. Let go. Open. Receive.
Fortunately for me, the month of April is brimming with opportunities to do just that:  
April brings a songwriters-in-the-round show at The Living Room at 35 East that I've been looking forward to for quite some time, plus the inaugural episode of a brand-new in-the-round series I'm curating with DEVLIN MILES called Live From The Vault: Songwriter Sessions. In between are Southern and Northern swings with my beloved NO FUSS AND FEATHERS.  Here's the scoop on all that: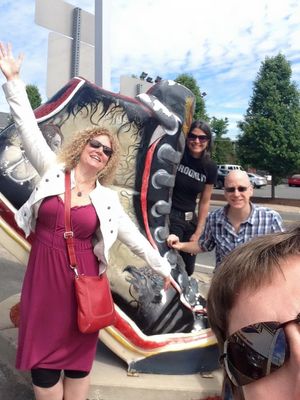 Thursday, April 4:  Songwriters' Night at The Living Room at 35 East, Ardmore PA (w/AARON NATHANS, AVI WISNIA, and ZOE MULFORD)
Saturday, April 6:  NO FUSS AND FEATHERS at Listen Up Brunswick County, Bolivia NC 
Sunday, April 7:  NO FUSS AND FEATHERS at Moe & Eddie's House Concerts, Greensboro NC
Thursday, April 11:  Live From The Vault: Songwriter Sessions at Putnam's, Brooklyn NY (w/DEVLIN MILES and CHRIS HEWAT of SOLAR HEARTS)
Friday, April 19:  NO FUSS AND FEATHERS at Spiral Sounds Concerts, Jersey City NJ  
Saturday, April 20:  NO FUSS AND FEATHERS at The Buttonwood Tree, Middletown CT 
Sunday, April 28:  Carolann Solebello: The Ones That Got Away LIVE on ConcertWindow
Find out about late-breaking musical news by "liking" and "following" my Facebook music page and my Instagram feed (something I'm just getting used to).
Until we meet again -- which I hope will be soon -- I wish you love, light, and the ability to let go and receive the boundless energy flowing all around you...
Namaste,    
Carolann