We've hit the deep freeze, friends... at least here in NYC. Yesterday, Autumn became Winter in just a matter of hours! No matter, though. I've got tea, sweaters, books, a cat, and best of all, MUSIC!
Not a whole lot of live shows between now and year's end, but I did want to let you all know about a few things...
I've spiffed up my website a bit, mostly because I just like tinkering with things. First of all, I've adding a site-wide music player at the bottom of each page that plays a career-spanning selection of tunes as you surf about on the site. And don't worry, it doesn't play automatically -- you get to decide to turn the music on or off. Also, dig the new, less-cluttered HOME page. Nifty, right?
I've also added a brand-new page -- SERVICES -- that details the music-related stuff I do outside of concerts. Click the link and take a look if you're in the market for some harmony vocals on your next recording project, a songwriting workshop facilitator, or a songwriting/performance coach to coax out your best creative self. 
The VIDEO page has a few new additions, as well, including a long-forgotten full-band version of "Put Down the Gun" from the 2013 CD release party for Steel & Salt. Good stuff. Videophile friends, if you've got any good CS vids in your vault, I'd sure love to see them. If my performance was any good, I can get 'em all spiffed up for YouTube in no time with your name attached...
As for live shows, there's one special one JOE IADANZA and I have been looking forward to for quite some time -- Saturday, December 7 at Deer Creek Coffeehouse in Darlington, MD. We'd sure love to see you if you're in the neighborhood. Photo below by Janice Brill.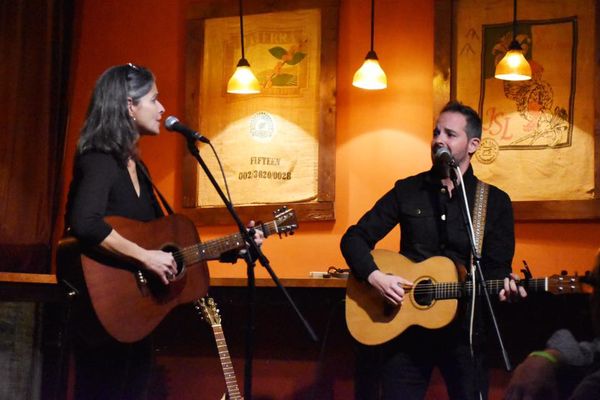 Meanwhile, my co-curator Devlin Miles and I are still hosting LIVE FROM THE VAULT: SONGWRITER SESSIONS every second Thursday in Brooklyn. Tomorrow, November 14, we're delighted to present PETE MANCINI and KATE VARGAS alongside Devlin as host. We'll be taking December off, but save the date for our January 9 edition, when we'll be pleased to welcome NYC songwriter extraordinaire DIANA JONES as our guest!
Whatever holidays you celebrate this season, I do hope you're finding ways to stay warm and connected with those you love -- and yourself. These are trying times, for sure, friends. Hold on to what is true. Wishing you warm beverages, tight hugs, hot music, and 
Peace,
Carolann