So, when I look at my calendar, it seems there's a whole lotta stuff going on. How is it I sometimes feel I'm standing still?
Perhaps a course in astrophysics or metaphysics or just some vigorous physical activity will help me explain the elastic nature of time and memory or at least get my cranial neurons firing again...
In any case, I'm happy to report that I've actually started recording sessions for a new album at The Wind-UP Shop! Well, one recording session... but still, that's more than zero! So happy to be working with my super-skilled and super-patient friend Jay Mafale on this project as each song unfolds in the studio. More to come on that front...
And I've got just a handful of live shows -- both solo and with NO FUSS AND FEATHERS -- and a couple of virtual appearances between now and the end of the year, but they are GOOOOD ones! Check it out...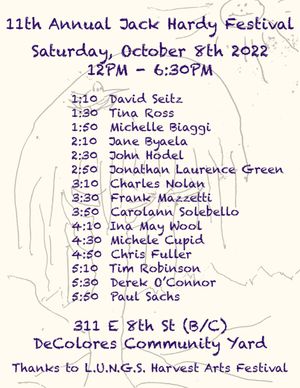 SOLO appearances:
Saturday, October 8 from 1-6PM
11th Annual Jack Hardy Festival, New York NY 
Playing a 20-minute set around 3:50PM in a day of music by kindred members of the Jack Hardy Songwriters Exchange.

Friday, October 21 at 8PM 
The Folkus Project, Syracuse NY 
Playing two full sets of music, both new songs and old favorites, for my first appearance at this long-running series. 

Tuesday, November 1 at 7PM
Sandro, George + The OG (VIRTUAL)
Sitting in with my pals from Pawling to talk about music and life and maybe play a few tunes live on the interwebs. 

Sunday, November 6 at 7PM
Greenwich Village Folk Festival (VIRTUAL)
Joining an all-star lineup in tribute to the songs of Jack Hardy for what would have been his 75th birthday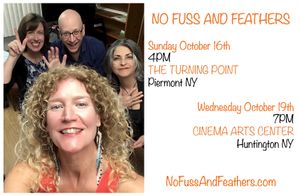 ...and NO FUSS AND FEATHERS rides again:
Sunday, October 16 at 4PM
The Turning Point, Piermont NY
It's our first time as a band at this legendary club! 

Wednesday, October 19 at 7PM
Cinema Arts Center, Huntington NY
Our first Long Island show in FOREVER! An open mic precedes the concert, so bring a song. 
 
Please note that these days, my calendar is subject to last-minute additions and subtractions, so be sure to check the SHOWS page on my website for the latest on these and all upcoming concerts.  
If you don't see *your* hometown on my list of shows, well, why not ask me to come and play? I play house/backyard concerts, church basement concerts, bar concerts, coffeehouse concerts, garden concerts... basically, you provide the space and some listeners and I'll play. Send me a note about it HERE to make it happen.  
Until we meet again, here's to good health, good fun, great music, and  
Peace,  
Carolann