Hello, friends! 
Ohmygoodness, April is half over already and I'm just now checking in… 
March was an absolute whirlwind, what with a deliciously fun run of shows with NO FUSS AND FEATHERS, a principal role in a short film, and more TV background acting. Of course, I'm not allowed to tell you anything about any of the scenes I was involved in, nor have I any idea when any of the episodes will air, but suffice it to say that eagle-eyed fans of Succession, The Marvelous Mrs. Maisel, Feud, or Severance just might spot a certain familiar-looking songwriter for half a millisecond if they're really, really paying attention… Ha!
Anyway, I've got a handful of local appearances this month making music with friends, so if you're in my neck of the woods, here are a few live shows (April 22 also live-streams) you might consider: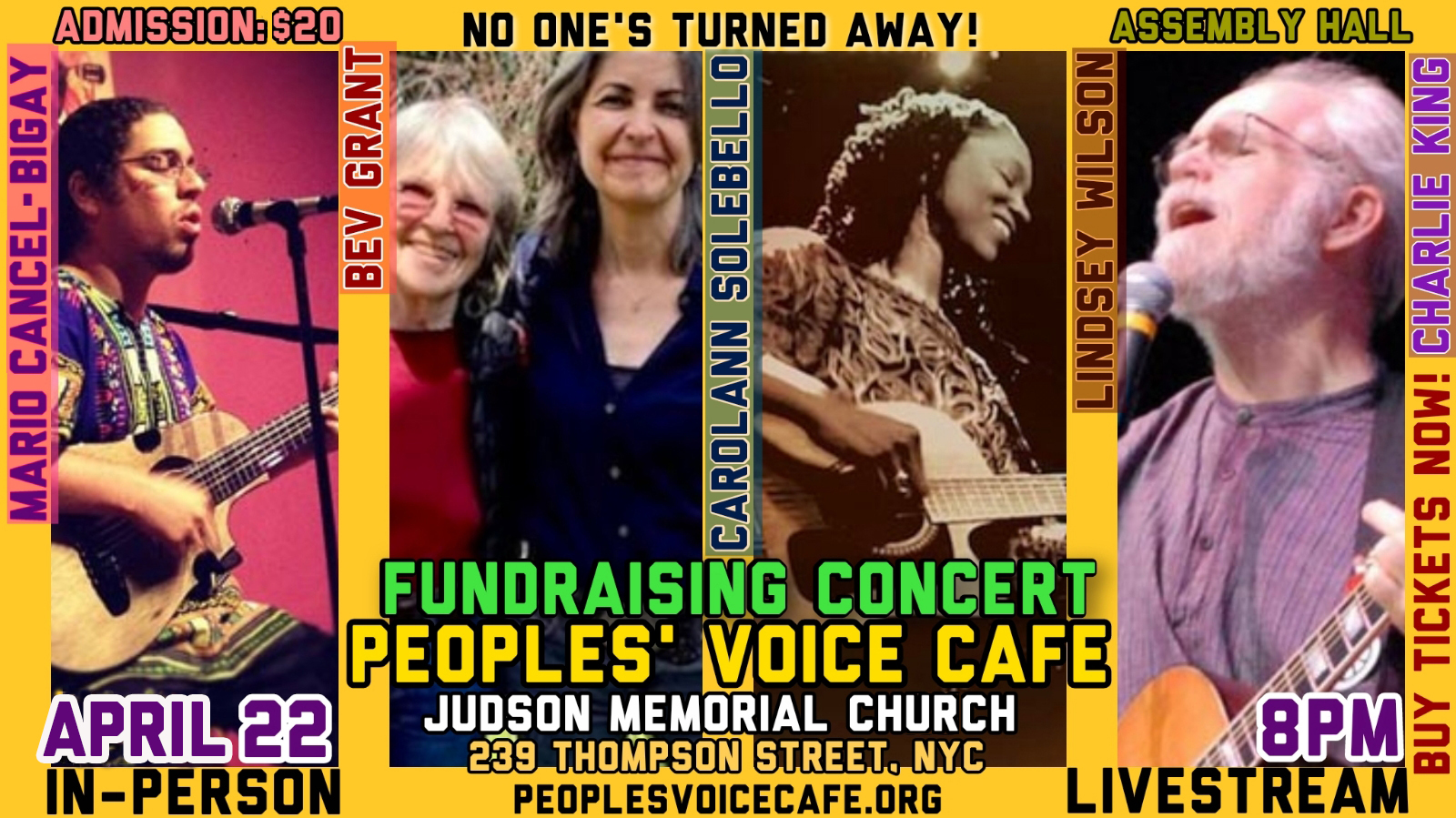 Saturday, April 22 at 8PM 
People's Voice Cafe, New York NY
Accompanying BEV GRANT on bass and vocals at this benefit concert also featuring MARIO CANCEL-BIGAY, LINDSEY WILSON, and CHARLIE KING
Saturday, April 29 at 8:30PM
Postcrypt Coffeehouse, New York NY
Sharing the stage under St. Paul's Chapel with TINA VERO and DAVE MURPHY, fellow troubadours from the earliest days of my adventures on the NYC folk scene
Monday, May 1 at 7PM
American Labor Museum/Botto House National Landmark, Haledon NJ
Accompanying BEV GRANT on bass and vocals at this annual celebration also featuring the SOLIDARITY SINGERS, folksinger GEORGE MANN, and lyric soprano ANNAMARIA STEFANELLI
Please note that performance calendars are subject to last-minute additions and subtractions, so be sure to check the SHOWS page for the latest on these and all upcoming concerts.   
If you don't see *your* hometown on my list of shows, well, why not ask me to come and play? I play house/backyard concerts, church basement concerts, bar concerts, coffeehouse concerts, garden concerts... basically, you provide the space and some listeners and I'll play. Send me a note about it HERE to make it happen.  
NOTE:  Right now, I am particularly looking to pick up a few dates June 7-9 (Chicago/DesMoines/Lincoln) and June 13-14 (St. Louis/Indianapolis/Columbus). Any takers? 
Until we meet again, wishing you good health, good fun, great music, and   
Peace,   
Carolann   
https://www.facebook.com/csolebello
https://www.instagram.com/csolebello/