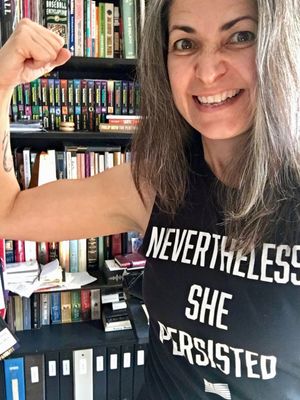 "Choose to fight only righteous fights, because then when things get tough — and they will — you will know that there is only one option ahead of you: nevertheless, you must persist."  
~ Elizabeth Warren, March 5, 2020
The world seems a little upside-down to me right now, but if there's one thing I'm certain of, it's that I will persist. 
I will persist in making songs because it is how I make sense of the world around me. I will persist in singing songs because it is how I communicate. I will persist in recording songs because they are what I will leave behind when my body leaves this upside-down world. 
Whatever you love, whatever you believe in, persist in that and you will prevail. Fight only righteous fights. Leave the world around you a little bit more beautiful than you found it. 
And for goodness' sake, wash your hands. Often...
Until we meet again, I wish you good laughs, good food, great music, and   
Peace,   
Carolann 
CarolannSolebello.com
Facebook.com/CarolannSolebello
In between recording new songs, here's where you can find me persisting in March and April:
Friday, March 6 at 7:30PM
CT Folk
New Haven CT
Split bill with MILES & MAFALE
Saturday, March 7 at 8PM
People's Voice Cafe
New York NY
International Women's Day celebration with SHARLEEN LEAHEY, LINDSEY WILSON, and PAT LAMANNA
Friday, March 27 at 7:30PM
Mad River Coffee Roasters
Campton NH
Saturday, April 4 at 7:30PM
Acoustic Brew Concerts
Lemont PA
Split bill with GEORGE WIRTH
Friday, April 10 at 7PM
Rockwood Music Hall Stage 3
New York NY
NO FUSS AND FEATHERS returns to NYC!
Saturday, April 11 at 4PM
Muses at the Ice House 
Bethlehem PA
NO FUSS AND FEATHERS headlines, with GRACE MORRISON, OPHELIA, BRITTANY ANN, EMILY BARNES, and EMILY MURE supporting!
Friday, April 24 at 8PM
Dorn Space
Gloversville NY

Saturday, April 25 at 7PM
Nickel City Arts
Akron NY

Sunday, April 26 at 4PM
Friendship House Concerts
Pittsburgh PA
For details on these and all upcoming shows, check the SHOWS page at CarolannSolebello.com