Hello, friends! 
It's been a minute... I'm hoping you and yours are safe and well, and that you're continuing to enjoy live music -- onscreen or outdoors at a safe distance -- whenever and wherever you can!
As for me, well, I've been pretty quiet these past few months, holding my little family and our local community close. So when our community rose up against racial injustice in the wake of the killings of George Floyd and Breonna Taylor, I proudly marched in the streets of Brooklyn alongside my neighbors. There was righteous anger and deep sadness in the air, certainly, but also an exhilarating, overwhelming, hopeful energy and a powerful sense that real and positive change is not only possible, but imminent.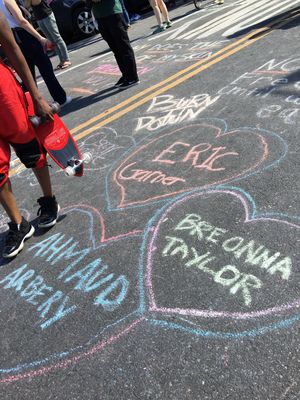 I'm doing my best to hold onto those feelings and maybe put a little of that goodness back into the world...
SO... in the realm of LIVE performance (well, live on the internet, at least), I'm excited to have these two shows on my September calendar:
First, on Tuesday, September 1st, 7-8PM Eastern, I'll be playing a full set for The Folk Project Acoustic Stayaway series. The Folk Project is near and dear to my heart, and I have played under their banner many times and in many configurations over the years. I am so pleased that this beautiful community has found a way to continue presenting live music in this time of social distancing. This concert will stream live on my FACEBOOK page.
Then, on Sunday, September 6th, 7-10PM Eastern, I'll be playing a 15-minute set as part of the The Greenwich Village Folk Festival 2020, streaming live both on Facebook and YouTube. These shows have been happening every first Sunday of the month this summer featuring a stellar array of performers. I've enjoyed watching the July and August editions, and am honored to be participate in the September show!
I hope to do more online performances in the coming months, perhaps in the form of late-night sets for insomniacs like me -- Midnight Musings or some such thing -- live from my FACEBOOK page. Can I get an "amen?" Follow the page to stay informed about when that might happen...
In the realm of SEMI-LIVE performance, I'm happy to say there are now SEVEN live-from-my-apartment videos in the QUARANTINE SONGS playlist on my YouTube channel. I hope to be adding more soon. If you SUBSCRIBE to my channel, you can be among the first to know when that happens. Subscribing is absolutely FREE and it's an excellent way to support your independent musician friends during this time without live and in-person performances.
In the realm of songs-writtten-for-and-about-songwriting-contests, I'm tickled to tell you my little song "Smith-Corona" took second place in the Just This Guy Songwriting Contest sponsored by the superfabulous Paul Loyd (he's just this guy). Hear it, and the other winning songs, HERE. 
And finally, in the realm of albums-yet-to-be-released, I am relieved to report that I have FINALLY returned to the album project I began before the pandemic sent me into creative shutdown. Working alone in my home studio, I've managed to record eight songs thus far, to various stages of completion. I hope to record a dozen or more before choosing which to include on the album and sending them off to pro engineers for mixing and mastering. Stay tuned for more on that front...
As always, my sincerest thanks for listening during this time of intense weirdness. I'm holding onto the hope that music is still a source of connection and community in this world, and that people will continue to need what we songwriters have to offer. Stay safe, and stay in touch... 
Much love, 
Carolann