Here in Brooklyn, crocuses and daffodils are waking up under sidewalk trees and in window boxes, tiny dogs are ditching their metallic down coats (I kid you not) and scampering about in the buff, so I, too, am peeking out from beneath my slouchy hipster beanie and turtleneck with fresh energy and a few new ideas...
More on that later, but for now, I'm excited to report that I've got three live-and-in person SHOWS this month in three different towns not too far north of Manhattan: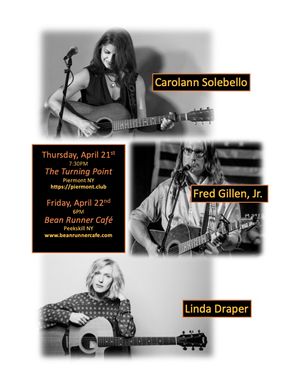 Saturday, April 9th, I'll be part of the Women's Voices concert at Walkabout Clearwater Coffeehouse in White Plains NY in the esteemed company of BEV GRANT, LINDSEY WILSON and THE TROUBLE SISTERS. 
Thursday, April 21st and Friday, April 22nd, I'll be sharing the stage with fellow troubadours FRED GILLEN, JR. and LINDA DRAPER for TWO evenings of songs in-the-round -- the first at The Turning Point, Piermont NY (Thursday), and the second at Bean Runner Cafe, Peekskill NY (Friday).
Click the venue names to grab advance tix for all of these shows.
As always, up-to-the-minute details about these and all performances are available on the SHOWS page at CarolannSolebello.com.
I know not everyone feels safe at indoor shows just yet, but the good news is Summer is just around the corner, bringing with it at least a few outdoor shows. I'll keep you posted on that...
Hoping we can meet again soon, and until then, I wish you good health, great music, and 
Peace,
Carolann
LISTEN to the music
BUY the music
WATCH live performances
FOLLOW Carolann on Instagram