Hello, fellow travelers. It's been a minute, hasn't it? 
Hope this finds you well in all ways as Spring gently unfolds her blossoms and we, it seems, do the same; carefully emerging from the longest, deepest, darkest hibernation of body, mind, and spirit in living memory.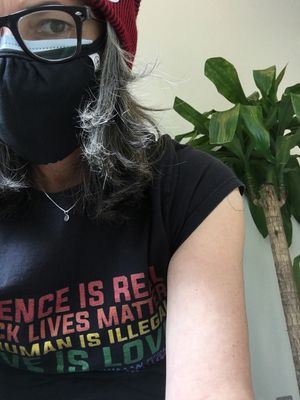 As we emerge, I find myself marveling at what a remarkably adaptable and resilient species we are. Really. Each one of us developed new habits, new routines, and new patterns of thought and behavior as we adjusted to ever-shifting realities, carrying uncomfortable and often painful burdens of uncertainty, fear, and grief. And here we are, adapting once again, not simply reverting back to what used to be, but perhaps finding better, more meaningful, and kinder ways forward. Remarkable, indeed.
Though I suppose a victory lap would be inappropriate, I do think we can at least take a collective breath and celebrate this moment after all we've lived through. Live and learn, as my Grandma Alice used to say... I know I certainly learned a LOT this year. Some of it was beautiful and noble, but a whole lot more of it was messy and uncomfortable. But in that muddy, murky bog, there's one truth that's floated to the top of my consciousness this Spring:  Uncertainty is the only certainty. I have been a dreamer, a planner, a worrier -- and often an anxious mess -- pretty much all my life. I'm learning that while planning is often necessary, plans are fragile and sometimes fall apart. And that's okay. Nothing whatsoever is certain. And that's okay, too. I'm trying to see this as further incentive to ground myself in the present, because really, that's all there is. Right here, right now...
And right now, I've got a few things to share with you. The biggest of those is that LIVE SHOWS are coming back! I've got not one, but TWO live-and-in-person shows here in Brooklyn, plus one virtual festival, on the calendar:
Friday, May 28th at Acme Hall Studios -- LIVE indoors, limited tickets, vaccination required -- Buy tickets HERE
Sunday, June 20th at Make Music New York -- LIVE outdoors, exact address to be announced
Friday, June 11th-Sunday, June 13th at Central PA Theatre & Dance Festival -- VIRTUAL
Another thing I'd like to share with you is one of the not-so-nice things I learned this year... Alongside many of my fellow music-makers, I have realized that Facebook has become a terribly inhospitable place for creative artists. Even though more than 1200 people follow my page there, Facebook's algorithm only allows a handful of those folks to actually see those posts. If you're one of those Facebook followers, I want you to know I sincerely appreciate you and apologize if you've not been seeing what I've been posting. It frustrates me that I cannot communicate the way I'd like to on what used to be a very handy platform. 
So, instead of dropping a ton of money in Facebook's pocket to increase my visibility, I've begun shifting my focus to Instagram and YouTube as I contemplate my virtual future. I've been posting the songs I write each week for the RealWomenRealSongs project on both platforms, so follow and subscribe to my channels there for a steady stream of new music and a few bonus pics of my cat. It doesn't cost any of us a dime and it can help us stay in closer touch. 
A few highlight links from my YouTube channel:
RealWomenRealSongs 2021 (a playlist of 17 newly-minted songs... and counting!)
$20 Bill (for George Floyd) (my cover of Tom Prasada-Rao's excellent and heart-rending song)
No Fuss and Feathers (a playlist of 9 live performances from our quartet)
Carolann Solebello and Joe Iadanza at Stage 33 Live (a playlist of 18 songs -- a full concert -- recorded March 23, 2019)
Thank you for sticking with me as I develop new habits, new routines, and new patterns of thought and behavior. We are a remarkably adaptable and resilient species, indeed. Here's to finding better, more meaningful, and kinder ways forward. Stay safe, stay strong, and get vaccinated. See you out there in the world somewhere, sooooon...
Peace,
Carolann