A few weeks ago, I had the privilege of attending the SERFA (Southeast Regional Folk Alliance) conference in beautiful Black Mountain NC, in the company of a few hundred kindred spirits.
Regional folk music conferences like SERFA are essentially a gathering of the tribe, where songwriters, musicians, radio hosts, concert presenters, festival organizers, record promoters, producers, engineers, publicists, and others who share a passion for folk and acoustic music come together to share songs, stories, experiences, advice, and anything generally related to bringing the music we love into the wider world.
The experience was, in short, amazing. I hadn't seen most of these folks in three dimensions in at least three years, so the power of human connection was palpable and powerful. I came away from those few days in the mountains with a renewed sense of hope for the future and faith in the human spirit.
There is more that unites us than divides us, friends. Of that I am certain. So, in spite of the daily onslaught that is the news of the world, I press onward feeling just the tiniest bit warmer, safe in the arms of kindred...
June begins with a VIRTUAL show:
Sunday, June 5th, 7-10PM
Greenwich Village Folk Festival
This month's stellar lineup includes Roy Zimmerman, Reggie Harris, David Massengill, Carolann Solebello, Bob Bossin, Marc Jonson, Pierce Pettis, Lui Collins, Jim Bruno, and Kyle Hancharick. I expect to hit the virtual stage sometime around 8:30PM. 
Then, I embark on a LIVE mini-tour with wonderful friends REGGIE HARRIS and PAT WICTOR! The shows will be collaborative in-the-rounds celebrating the transformative power of songwriting, friendship and of course, sweet, sweet harmony! Click the venue name for tickets and info for each date: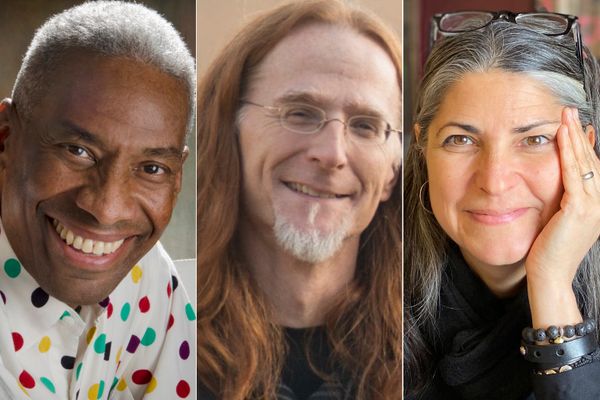 Thursday, June 16th at 7PM
Godfrey Daniels, Bethlehem PA
Reggie Harris, Pat Wictor, and Carolann Solebello
Friday, June 17th at 8:30PM
Towne Crier Cafe, Beacon NY
Reggie Harris, Pat Wictor, and Carolann Solebello
JULIE CORBALIS opens 
Saturday, June 18th at 7:30PM
6 On The Square, Oxford, NY 
Reggie Harris, Pat Wictor, and Carolann Solebello
Sunday, June 19th at 3PM
First Acoustics House Concerts, Kingston NY
Reggie Harris, Pat Wictor, and Carolann Solebello
Outdoors, weather permitting.  Otherwise, indoors. 
Happy Summer, friends! Hope to see you soon, whether in the virtual world or in three-dimensions. Either way, I remain deeply grateful for your continued love and support. Stay safe!
Peace,
Carolann