...well, not quite, but I'm excited. I'm one of those people who deeply enjoys the crisping of the air and the falling of the leaves and the making of the soup and the sharpening of the pencils that comes with the arrival of Autumn. You can keep your pumpkin spice, but I'll meet you for a steaming black coffee and a pumpernickel bagel on a park bench any day of the week come September. And yes, Autumn in New York IS all it's cracked up to be. Most of the time... 
Anyhow, Summer was lovely in that I got to do a few live-and-in-person gigs and remember how to do that thing I love to do so much. How very wonderful to STAND before LIVE audiences on porches and verandahs and SING for (and with) other humans!
Grateful I'll get to do that again a few times this month, because truthfully, I'm not sure when it will happen again: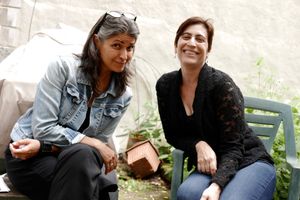 Sunday, September 12th, my dear friend SHARON GOLDMAN and I will share the stage for an afternoon lawn concert at the Monroe Township Public Library in Monroe Township, NJ. The concert is FREE, but click HERE to register if you'd like to attend. 
Saturday, September 25th, I'm proud to be part of the annual Jack Hardy Exchange Songwriters Exchange garden concert at De Colores Community Yard on Manhattan's Lower East Side. It's always an afternoon of good fun and good songs. Click HERE and scroll down the page for details on that. 
As always, check the SHOWS page for details on upcoming performances.  
And if you're so inclined, I invite you to follow my Instagram feed and subscribe to my YouTube channel... both are FREE and keep us connected in a more immediate way. I've even created a playlist of my weekly contributions to the ongoing RealWomenRealSongs project on my channel. Check out all 35 songs (and counting) HERE. 
Thank you, as always, for sticking with me on this journey. Stay safe, stay strong, and please, PLEASE get vaccinated so we can see each other out there in the world somewhere, sooooon...  
In gratitude and respect, 
Carolann 
Photo of me and Sharon Goldman at a previous Jack Hardy Songwriters Exchange garden concert by BEV GRANT.